A journey from a scary roller coaster ride into beautiful ocean waves
Editor's Note: This guest post was contributed by Rumana Jairumi.
"You are never too old to set another goal or to Dream a New Dream". C.S.Lewis.

Keeping this in mind:
Let me walk you through the fascinating adventure that I have been experiencing at Techfynder.

Two years ago, I, Rumana Jairumi an Account Manager at Techfynder, was a housekeeper, who had never thought of going back to the corporate world after my career break. I was certainly satisfied with raising my beautiful kids and managing a family when suddenly, I found myself sucked out of my life as a homemaker and walking through the doors of the corporate world.

I can never forget the day I walked into the Techfynder office to meet the Founder and CEO of Techfynder, Praveen Madire just for a casual talk to take some advice on what I could do in future if I intended to start my career again. After a long discussion, he asked me to join his company as an intern. I had heard a lot about him and how he and Techfynder had helped newcomers to grow in their careers. I felt like being the lucky one to be offered a place on their team. I didn't know the trajectory I wanted to follow, so I was nervous as I sat on the chair not knowing what should be done.

Growing and learning every day
With confidence and positive thinking, I accepted the challenge. With this mindset, I decided to give 100% to the task, to learn, and to develop myself both as an individual and as a professional.
I would say there's something to learn from each situation and person that we come across in our everyday life. We must keep an open mind for that. This positive mindset helped me through my journey.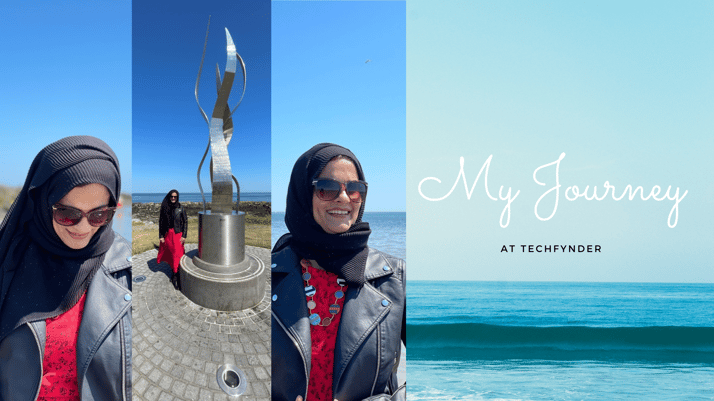 Endeavouring help

Stigma is a huge barrier that prevents us from asking for HELP!
Normally we do not want to be judged as being incompetent and start worrying about the reaction however the truth is that we all have moments where it's just too much to handle. Initially, I often found myself struggling to grasp the work that was put in front of me, everything was new, from work to the latest technology.

However, Paul Guy, Techfynder's Marketing Director, opened his wings to Mentor and train me to overcome all my hurdles. I was lucky to have his advice through all the ups and downs. Within no time, I was handling all our client's demands and have never looked back since.
I strongly believe none of this would be possible if it weren't for the challenging but rewarding workplace culture that I found at Techfynder. My transformation from a housekeeper to a professional Account Manager was made possible by Techfynder.
So here comes my message for people who are struggling to get through a new job:
It is never too late to start working on your dreams, all you must do is take the first step forward as building a successful career for yourself requires nothing more than a willingness to work on the things you're passionate about.
Techfynder is a company that truly values its team: it is such a brilliant place to work, grow and feel part of every successful milestone the company achieves. I'm extremely proud to have re-started my career here. If you would like to find a new job opportunity with some of the best companies across all sectors around the globe, as I did, register here.